On the opening day of the conference, discussions revolved around the effects of the platform economy on work, and we heard keynote speeches on the online gig economy and the downside of innovation work.
The first day of the WORK2019 Conference began with a speech by the Minister of Employment of Finland, Timo Harakka. Harakka thanked the organisers of the conference for its topical theme, Real Work in Virtual World. He reminded the listeners about the responsibility that digital development brings. It is important to ensure no one gets left behind in the rapid change of working life.
Among other things, the opening day featured discussions on the platform economy's impact on work. The freedom and self-direction of work done on digital platforms such as Amazon and Über are attracting more and more people, and the importance of the platform economy alongside the traditional labour market keeps growing.
However, there are plenty of challenges involved in work done on the platforms. It is difficult to regulate and recently the poor working conditions of food couriers, for example, have been the subject of much public debate. The uncertainty and weak rights related to platform work can cause employees stress and anxiety.
The day's presentations suggested that one way to address the problems is to compare platform work to other similar forms of work, such as gig work and work done through employment agencies. This would help determine how challenges have been solved in similar situations before. The regulation of platform work should also be increased and clarified.
Innovation work can place a large number of employees at a disadvantage
The first keynote speech of the day was delivered by Associate Professor of Communication Lilly Irani from the University of California, San Diego. The keynote was titled Innovators and their others: work, value, and the colonial present.
Irani described innovations as a form of work, an ideology and a type of productivity typical of capitalism. According to Irani, innovations are at the heart of economic policy and decision-making today. This is justifiable, in a sense, since they can help in finding solutions to major societal challenges, such as climate change.
However, Irani also believes there are problems related to the prioritisation of innovation work, as it can easily result in the marginalisation of many other forms of work and information.
"It's important to look at what kind of differences and hierarchies innovations create between people," Irani says.
There is often a desire to outsource the so-called performed jobs required for developing innovations, such as the manual screening of large amounts of data or the mass production of products. Large international companies, for example, may relocate their production to developing countries and retain the more creative tasks, such as those related to design and marketing.
According to Irani, emphasising innovations reproduces colonialist practices. When pursuing innovations, there is a need for invisible "others", people who often have to work as freelancers without proper working conditions.
Research on work has also focused on defining phenomena from the starting point of innovations, Irani points out. She encouraged the audience to think about how the situation could be changed.
"What would it look like if we put decent work on the top of our lists and said: if innovation happens, it happens. Too much attention is being directed to innovations at the moment," Irani says.
Online gig jobs reveal the future of work
The second keynote speech on Wednesday was delivered by Associate Professor and Economic Sociologist Vili Lehdonvirta from Oxford University, titled The online gig economy: What we know and what we don't.
The online gig economy refers to service work done through digital platforms, such as Upwork. In Upwork, people can sell things like software development, graphic design services or translation work at a certain hourly rate. The employer can hire them to do a single job or project. The online gig economy is also called the remote platform economy, since the employee and client do not meet each other face-to-face.
"Whereas the traditional labour market is usually local, gig jobs can be done digitally from anywhere," remarks Lehdonvirta.
The vast majority of online gig workers are highly educated people who may have difficulties finding work in their home countries that match their skills. This is supported by statistics that show that most online gig jobs are done in India, Bangladesh and Pakistan. Most of the online gig labour force demand comes from the United States.
In Europe the amount online gig jobs is still marginal. According to surveys, they are the main source of income for about one percent of European adults. However, a larger number of Europeans than this get part of their income from online gig jobs.
The online gig economy has been studied from many angles in recent years, according to Lehtovirta, but the relationship between it and the traditional labour market is not yet well known. We do not yet know, for example, how large a part of online gig workers move to the traditional labour market as a result of their work.
Lehdonvirta believes the online gig economy serves as an example of many traditional labour market trends, such as self-employment, remote work and utilising customer feedback and algorithms in employee management.
"Online gig work on the whole is quite an extreme phenomenon, but we can see pieces of it everywhere in working life," Lehdonvirta states.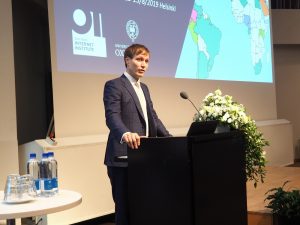 Text: Kira Keini / Kaskas Media
Images: Eija Vuorio, WORK2019 organising committee & Vilja Rydman, FIOH
The WORK2019 conference is an international forum held between 14.–16.8.2019, where research knowledge and experiences about work are exchanged among researchers and experts in work and the fields of working life. The conference is organised by the University of Turku together with the Turku Centre for Labour Studies TCLS, the SWiPE consortium funded by the Strategic Research Council at the Academy of Finland, and the Finnish Institute of Occupational Health.